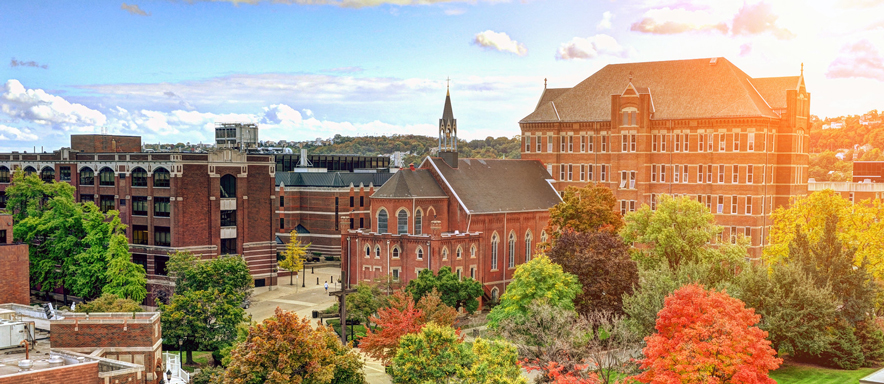 78th ANNUAL CONFERENCE OF THE PENNSYLVANIA COMMUNICATION ASSOCIATION
Duquesne University
Theme: "Disruption, Interruption, and Communication (Im)Possibilities"
Dates: Friday September 29, 2017, & Saturday September 30, 2017
2017 PCA Philosophy of Communication Pre-Conference*, Duquesne University
Theme: "Phenomenology of Crisis"
Date: Friday, September 29, 2017
* PCA Philosophy of Communication Pre-Conference is an official PCA Convention special event and
an integral part of the 78th Annual PCA Conference.
---
2017 PCA Pre-Conference and the Annual Convention Program
---
ACCOMMODATIONS
A block of rooms has been reserved at Cambria Hotel & Suites Pittsburgh-Downtown, the official hotel of the Pittsburgh Penguins.
Address: 1320 Centre Ave, Pittsburgh, PA 15219
Phone: (877) 305-7123 (Reservation Center is available Monday-Saturday)
Rate: $119+ tax
Website: https://goo.gl/Chou5w
Please reference "Pennsylvania Communication Association Conference" to book your room at
the group rate. Reservation deadline for the room block rate is Tuesday, September 19th.
Parking fees at the Cambria Hotel & Suites are $18 per night; Complimentary transportation to
Power Center is available.
---
Interest Council Chairs:
Applied Communication – Paul Lucas, pal59@pitt.edu
Communication Education – Jill Burk, jkb20@psu.edu
Communication Ethics – Maryl McGinley, marylroberts@gmail.com
Communication Honor Societies Interest Group – Joel Ward, jsward@geneva.edu
Health Communication – Linda Coleman, linda.coleman@sru.edu
Interpersonal/Organizational Communication – Sheryl Goodman, sgoodman@ursinus.edu
Languages of Communication – David M. DeIuliis, daviddei@pitt.edu
Mass Media and Society – Hans Schmidt, hcs10@psu.edu
Media & Technology – Richard Talbert, rich.talbert@geneva.edu
Performance Studies – John Lawson, lawsonj@rmu.edu
Philosophy of Communication – Janie Harden Fritz, harden@duq.edu
Poster Session – Cem Zeytinoglu, czeytinoglu@esu.edu
Rhetoric and Public Address – Craig Maier, maier551@duq.edu
Undergraduate Student Research Interest Group – Donna Weimer, weimer@juniata.edu